Touch Voice + is an advanced Medical Speaking App which allows speech impaired persons to communicate.
Helping people with speech impaired medical conditions to speak; at home, on the go and now in hospital intensive care, ventilator and stroke wards, for affordable Android tablets.
Android Version Touch Voice + for Android tablets and smart phones sold on Google Play, medical app store (INSTRUCTIONS: Once you have your Android 4.1 or higher version hardware tablet device available and setup, visit this website in the tablets mobile browser and click on Google Play store link to purchase and download your app).  Then get more natural sounding voices.
Touch Voice + was designed to address alternative communication needs for some persons with stroke, surgery and other conditions which affect their speaking ability.
Using Touch Voice +, a person can "speak" words and sentences easily by touching their finger to the touch-sensitive screen.  A male or female, (or child) computer-synthesized voice can be configured.
People who can't speak are frustrated trying to communicate with their caregivers, friends, and loved ones. Just as others can be frustrated in trying to communicate with them.  Or their speech may be just too weak or inarticulate to understand.  By using Touch Voice +, they can quickly and easily voice their needs and feelings, thereby better communicating in general.  Ultimately this can reduce their stress levels, lead to better care and aid in their recovery.  Touch Voice + is useful in conditions where someone knows the right words but cannot speak them, or vocalize them intelligible.
OUTSTANDING QUALITY TOUCH VOICE + APP FEATURES:
Easy to use interface with simple help instructions for quick touch vocal communication
80 basic picture image speaking capability, general living needs, pain levels and emoticons for describing feelings, designed for specific hospital care scenarios
37 common dialog categories with over 4,100+ English speaking words and phrases
Pause / Resume speak button
Auto speaking button reducing input to a minimum
Can be used in any common setting, home, hospital, on the go, etc.
High visibility in low light environments
Large immediate speaking Yes and No buttons on every speech output screen
Ability to concatenate word phrases with keyboard input, thus forming complex sentences easily
App is very affordable even after factoring in the hardware purchase cost of an Android tablet.  
The app transforms a mobile tablet into an Augmentative and Alternative Communication (AAC) device for those who are unable to produce understandable natural speech on their own.
The Touch Voice + user interface is optimized for use by those who have mobility and dexterity challenges specifically affecting their ability of targeting and touching communication buttons with their fingers.
Supports installing third party high quality custom speech voices Male, Female and Child with natural human sounding speech synthesis voice
After App is installed it no longer needs Internet Access (or wi-fi) to function and no need for data plan or carrier saving you money monthly!
However, if you user the NEW +GOLD button feature, internet access is required.  +GOLD allows you to store your own custom word phrases and requires the install of the Google Chrome Browser (see video above), free from the Google Play App store.  + GOLD is actually an earlier version of our other Touch Voice Gold App.
Visit the Google Play Store to purchase the Touch Voice + app with additional features including graphics and better voice speaking capabilities for use on more affordable Android tablets and large screen smart phones.
SCREEN SHOTS OF TOUCH VOICE + APP (SEE VIDEO ABOVE FOR DEMO)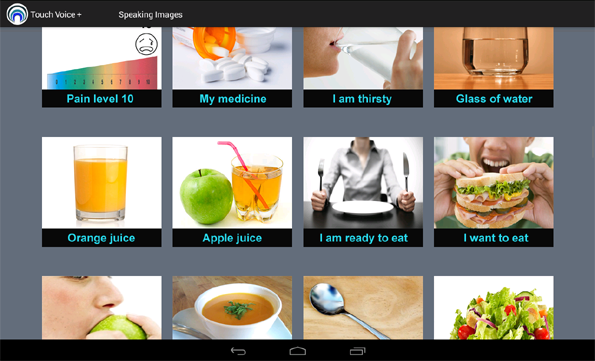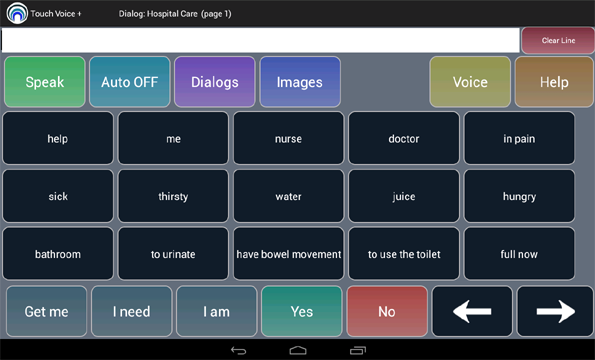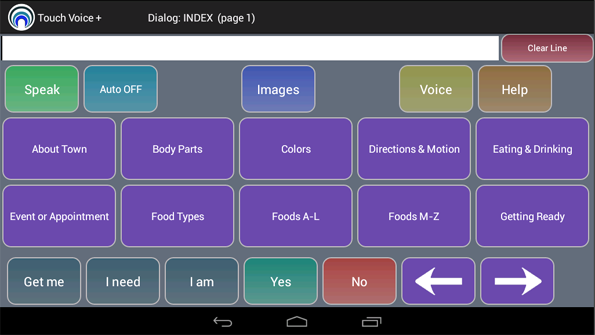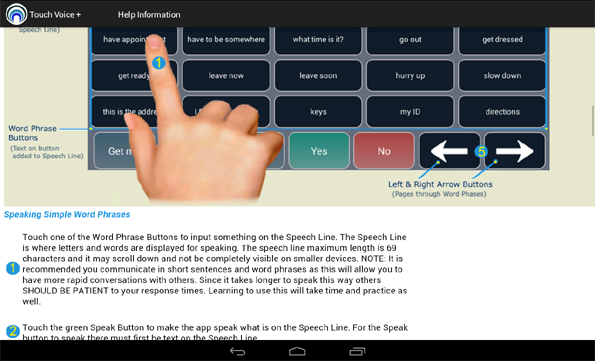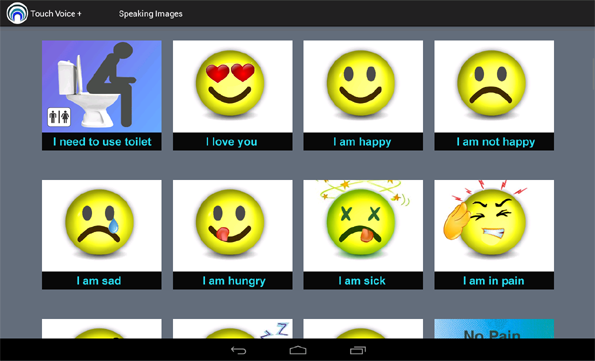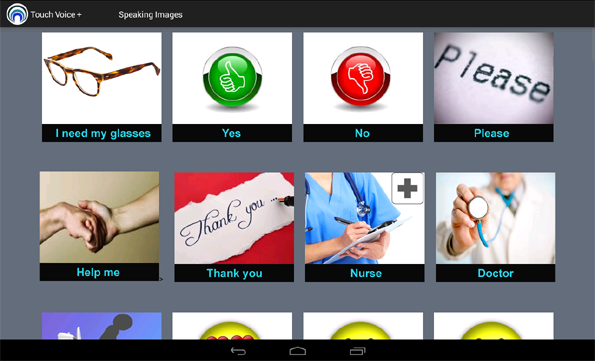 We recommend purchasing the Android Touch Voice + version on the Google Play store.  Thank You.

MONEY BACK GUARANTEE We want you to be happy with the Touch Voice + App for Android.  This applies to the Android Touch Voice + version of the app software only (not hardware). Click here for details on refunds.
For those that already have an Apple iPad available, we recommend the New Touch Voice Gold Web App for the iPad 2 and above.