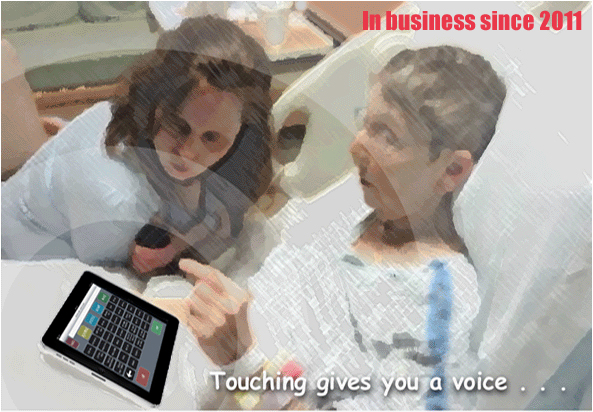 Thousands of apps sold to date on four app stores (Apple, Google, PayPal, Amazon) in two languages (English & Spanish). Large screens tablets and pads recommended over smaller screen sizes giving user more buttons and easy targeting for speech. Free demo (1 time, 1 Day, using Chrome). That said, Android phone users should consider Touch Voice Gold and use Screen Settings to adjust. Desktop and laptop should use PayPal option, you will receive email with ID and Password sent to PayPal registered email address. iPad users should purchase the preferred Gold version as the Original is no longer updated. Follow us on twitter and share with those in need.
— Michael McAnally (@Michael_Blade) November 17, 2017
— Michael McAnally (@Michael_Blade) December 13, 2017
Quality Medical Speaking Apps For The Speech Impaired
Touch Voice produces medical grade speaking apps for the speech impaired allowing them to communicate with speech synthesis by touching or clicking on buttons.  The apps run on Android tablets, iPads, most laptops and desktops (PCs and Macs).  They are available in English and the Spanish Language. 
Touch Voice apps have been designed to address medical conditions such as Stroke, ALS, Traumatic Brain Injury, Brain Tumor, Cerebral Palsy, Multiple Sclerosis, Ataxia, Dysarthria, Laryngeal Cancer, Selective Mutism, Parkinson's and potentially others not listed.
People who can't speak are frustrated trying to communicate with their caregivers, friends, family and loved ones. Just as others can be frustrated in trying to communicate with them.  Or their speech may be just too weak or inarticulate to understand.  By using Touch Voice Apps they can quickly and easily voice their needs and feelings, thereby better communicating in general.  Ultimately this can reduce their stress levels, lead to better care and aid in their recovery.  
The Touch Voice Product Line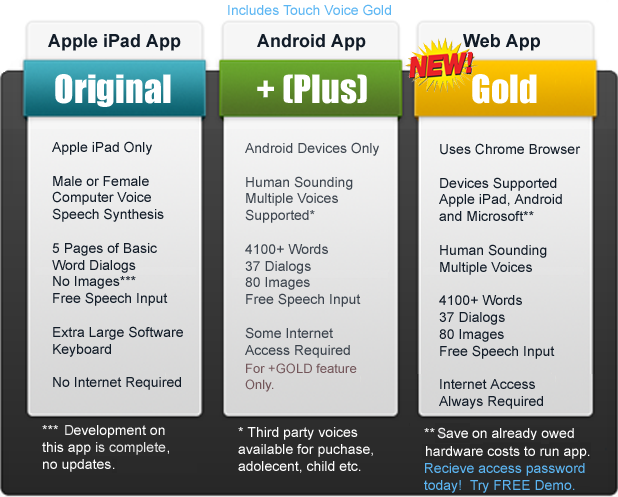 To date thousands of people have been helped through the use of Touch Voice Apps. We do not include commercials Ads in our apps because of the inappropriate distractions it can cause for those recovering from medical conditions.  Designed for use in Hospital and Convalescent settings, as well as at home care, and on the go.
The only way to know if Touch Voice apps will help a specific speech impaired individual is to try.
1 DAY FREE DEMO TOUCH VOICE GOLD: Our NEW Touch Voice Gold works on most devices (iPads 2 and above, Android devices, Microsoft and Apple computers)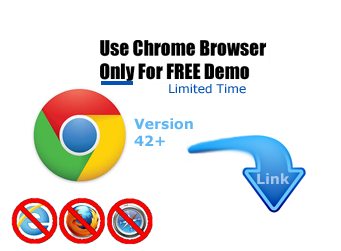 For A FREE LIMITED Demo ******************* VERY IMPORTANT Use Google Chrome Browser ONLY installed on your computer device (laptop/tablet/pad/whatever) FIRST and then visit this link *******************.
We have incorporated feedback from our customers improving our apps features and usability. Please consider purchasing one of our apps today on Apple, Andoid or Paypal stores.
REFUND GUARANTEE: We will refund the purchase price of your app software if you find the app to be non-effective within 30 days.  Apple iPad app refunds only will need to contact Apple.  All others contact Touch Voice.  Note: If you are going to purchase a tablet/pad for use with our software, we recommend saving your receipt.
Purchase Touch Voice now for yourself or a friend or loved one.
To buy Touch Voice Gold for iPads only
To buy and more detailed information on Android Touch Voice Gold
To buy and more detailed information on Touch Voice Gold Web App